Think about the last few business cards you've received – do any in particular come to mind? What made them stand out? Did you end up doing business with that person? We know that when you receive a business card that is professional and well put together, it's not something you forget!
Listed below are some tips we've put together that are helpful for determining the right commercial business card for you!
Choose Your Right Card Stock
As a business owner, you're always looking to network and market your brand. Business cards are a great way to do that! Cards are relevant in today's business environment because they create a physical memory. It's 2019, and almost any information you would need is on the internet – provide a personal touch in a cyber world. Commercial cards are something customers remember, and they're simple to pass on.
The type of card stock you select says a lot about you. Will you choose a whimsical, light card or a heavier, thicker cardstock?  There isn't necessarily a better choice, as long as you're representing yourself in a way you're proud of. With our advanced printing techniques at Unique, we aim to help you be creative by providing materials for you to brand yourself successfully.
A Unique Print Card Provides Boundless Networking Opportunities
Go for a sleek, modern look or do something bold and colorful. We've got hundreds of design and color options available for you to browse through. Having a professional, well tailored card shows that you are always prepared.
New Trend Idea: Cut-Out, Imprinted Cards
Who says you have to stick with a standard, plain business card. Make it stand out! Include an imprint design or cutout. This creates a memorable feature that leaves a lasting impression on a potential client.
Commercial business cards allow you to express yourself and create opportunities out of your everyday life. Consider having us manufacture a business card that is magnetic, people are more apt to keep your information if they have a place to store it.
Contact Information Should Be Straightforward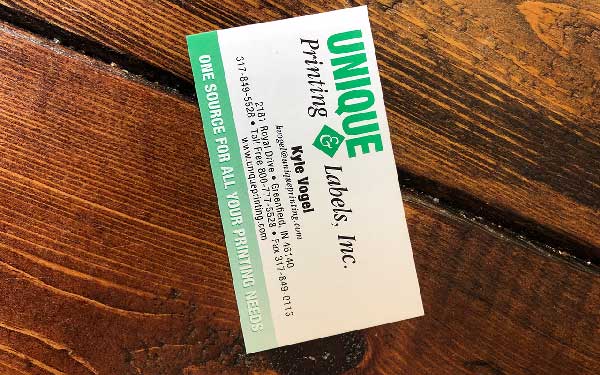 Typically, you should include: Name, Email, Phone Number and Address on your card. Additional information could include your Title or steps to get started doing business. Maybe insert a quote or piece of information about yourself that makes you more relatable and funny.
Potential customers should be able to easily locate the contact information necessary to reach you.
Make a statement about yourself. Often times, business cards are the first lasting impression we have of someone. It's inspiring to see a well-put together card – at Unique Printing, the possibilities are limitless when it comes to design.  Ask one of our staff members about the different styles we offer and get started today!